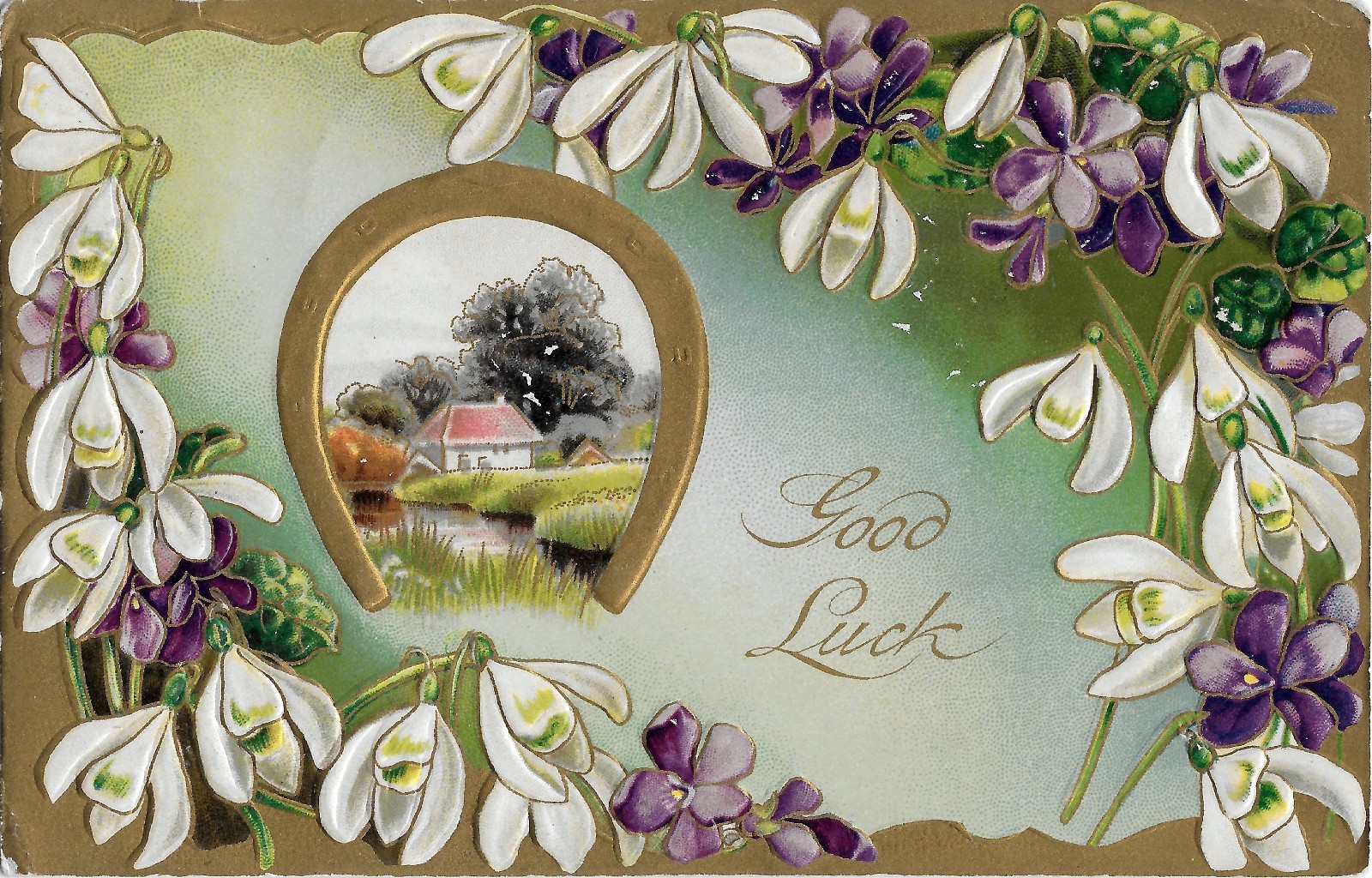 I love this vintage card for its nontraditional
but springtime charming motifs of snowdrops and violets.
Unusual, rare.
Hi! You know what they say---"On St Patrick's Day, everyone is Irish!" My immediate family isn't Irish, but that never daunted my mom. On March 17, she always made corned beef, cabbage, and boiled potatoes. Later she switched to the fancier version of colcannon*, a favorite of mine.We were as Irish as a bunch of third or fourth generation Americans of Anglo-European heritage could be.
In college--green beer, hahaha. And Chicago, home, with its green river and green road stripes.
I'll never forget my first St Patrick's Day in NYC (it's a big deal here in NY.) I was home with bronchitis on a snowy frigid day, when I heard--bagpipes! Row after row of marching bands, in their kilts and high fuzzy black fur hats or tams, bagpipes wailing. The kilts were fabulous: bumblebee yellow and black, brilliant turquoise and red and black. It was an amazing sight right below my apartment window.
Mo is all set if the parade should pass by here. This is his fancy party collar.
It has bells!
"I'll be there, with bell's on!"
says Mo.
Mo also got presents, of course. Shamrock green "Greenie" breath mint treats.
And since it's so cold he's been wearing his woolly shamrock neckwarmer too.
This gives you a better idea of how this neat yarn works. This is with flash in a dark room.
Meanwhile, the great big blizzard of '17 was a huge flop. Mostly sleet and freezing rain. The chairs are turned over by me, in case of high winds. Ha!
I wasn't exactly disappointed--more like--annoyed! When we can't trust the weatherman , what's left? No wonder we don't evacuate when a hurricane ''might'' come, these guys have cried wolf way too many times.
I hope you have a fun St. Patrick's Day! Here's some fun vintage menu ideas.
love
lizzy
gone to the beach............