Good morning! Today's the final day of the Sajou Linky party and my Sajou quilt's central section is finished just in time! I'll put the link at the end of this post so that you can see everyone's wonderful small quilts, each so special and unique.
My Sajou [inspired by a Paris shop Lori visited], is wildly bright and scrappy. I do not gather scraps of fabric but I'm perfectly happy to snip off corners to get the effect.
The triangle Circus Bunting border was oddly difficult. Maybe it was me? I have been struggling with severe rib and knee pain---and an ugly black eye---since I had a bit of a fall a few weeks ago. You may note that some of the other quilts have wonderfully symmetrical and intricate corners. Hahaha. My quilt reflects a child's [imaginary] work, a tiny Madeleine perhaps or Eloise, with her pug!?, home from the convent school, learning to sew with the prettiest tiny bits from her maman's scrap bag.*
The sewalong design stops with the bunting border, but the antique inspiration quilt has more surrounding pieced borders. I plan to use the extra triangles for a Broken Dishes quarter square triangle border. Then perhaps a Square in a Square border after that.
The spacer after the triangles border is a turkey red floral. Somehow I only had a 2 1/2" x 36" piece of this fabric. Nothing else worked as well. I tried so hard to use every itty bitty piece to eke it out, but no.
Instead I used a similar larger print, 4" on one corner. Let's call it a bit of make-do charm?
The final border will be the purple ladybug print, from Jamestown collection, aka Hideous. I call this hideous but i am loving this group. The purple will be perfect,
so amusing, tres amusant, ma petite
.
Then the binding will be the red stripe, the only French General fabric that I had, and it echoes its use around the central Postage Stamp square.
To finish, though of course we'll revisit as time goes along, ''Madeleine'' will be allowed to use her maman's new treadle machine to machine quilt her doll quilt. Such a thrill. In real life I'll machine quilt it on my old Brother machine with electricity. Those big empty triangles will get some hand quilting though: hearts or flowers? Initials and dates?
So fun! Fictitious Madeleine and I learned a lot and had loads of fun, dropping all projects to work on this sweet challenge.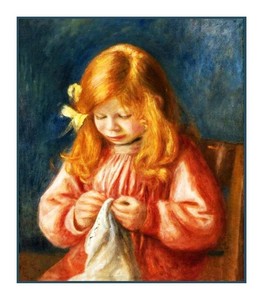 Renoir ''Child sewing''
*You can tell I love making up stories for my quilts, large and small, which is why this year I am so struggling with the Barbara Brackman's Civil War sewalong. I understand that social history is often not pretty or charming, is gritty and painful and real---but again this month's story is awful, about violence and beatings [of slaves?, I skimmed, as Mel suggested]. Not what I want to memorialize in TWO quilts. And it's the hated Carolina Lily block.
sigh, what to do? This was my on deck project coming up, as soon as 1880 is all pieced. It's there behind Sajou, see?
............
Today is a lovely real fall day! Quite warm, grey and wet. The ugly locust tree outside my window has a tint of gold to its few remaining leaves. I can't resist one last pic of my tiny gremlin on Trick or Treat night!
Have a great weekend! Taco casserole or shepherd's pie? You decide!
love
lizzy
gone to the beach....